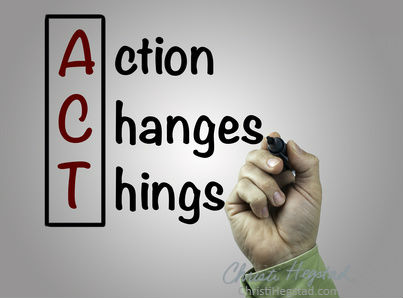 If you looked at my bookshelves and podcast subscriptions, you might guess that I consume a great deal of content.
You'd be right. I loooooove to learn.
But I read/listen with a highlighter or journal nearby. I always challenge myself to take at least one point and put it into action, try out a new perspective or behavior, and/or share what I've learned with you all!
I don't want to consume just for the sake of consuming; I want to turn that knowledge into purposeful action. As Ryan Michler wrote, "If information was all we needed, we'd all be millionaires with chiseled six-pack abs."
This week, I challenge you to take your knowledge, thinking, or learning a step further.
This week, take a specific, significant action. Click "Submit" on the article you've been writing. Call the potential client you know you can serve. Hire the coach. Upgrade the software.
.
Give thanks for the knowledge – then take the action!
Christi Hegstad, PhD, PCC is an executive coach helping you design your ideal vision and achieve it with clarity, confidence, and meaningful action! Join our community: Click here and fill in the blue box or send us an email! 
---