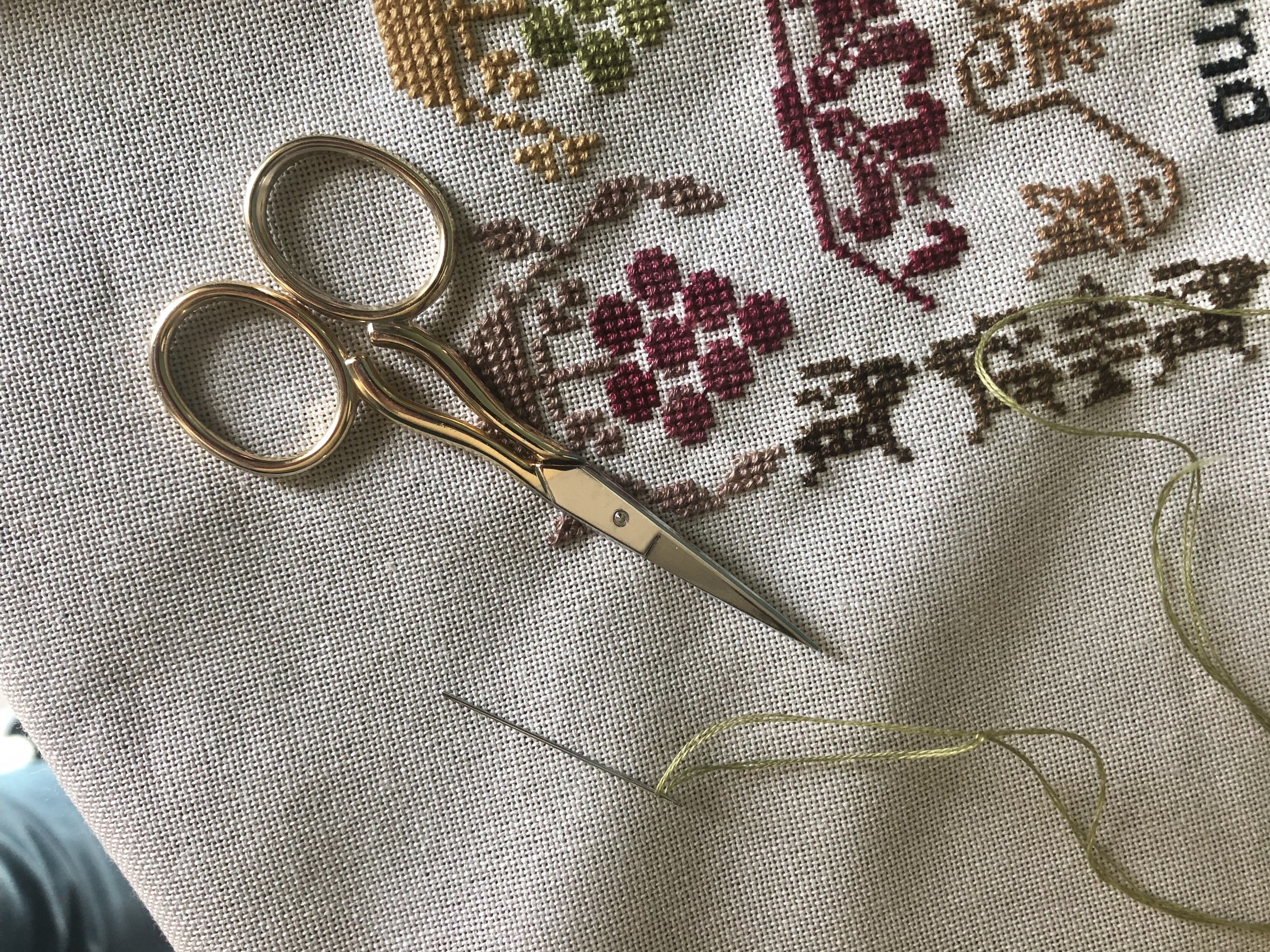 After a many-year hiatus, I've recently gotten back into the hobby of cross-stitch. For me, it's an ideal blend of challenging yet relaxing, structured yet creative, mindless (ie, when filling in blocks of stitches) yet meditative.
I love seeing a blank piece of fabric and some loose threads slowly transform into a work of art. And, since I spend much of my time in my head, I appreciate creating a tangible item with my hands.
I'm not sure why I stayed away so long!
And yet, like with anything, it's not without its frustrations.
Take last night, for instance. I stitched for about an hour, then realized I was completely off count. Often when this happens (and for me, it indeed does happen often!), I can just alter it a bit and continue on. This time, however, the mistake was too noticeable and would have impacted the entire rest of the piece.
So, after an hour of stitching, I spent the better part of the next hour ripping out everything I had just done.
It's hard not to feel like I just wasted an evening.
What do you think? Did I just waste an evening?
As you probably know, living with purpose is hugely important to me. It's one of my core values, it's part of my concise Purpose Statement, and it's a philosophy I've built my business around for the past twenty years.
And this may sound dramatic, but one of my greatest fears in life is feeling like I've wasted – or have not been purposeful with – my time.
So to expend an hour, or an evening, or several months on a project with nothing to show for it … well, I struggle with that. A lot.
But the thing is, that's also part of life.
We dedicate weeks to a presentation that ends up getting cut from the program at the last minute.
We invest months of time, energy, and heart into a project that doesn't receive funding and gets filed away indefinitely.
We spend years of our rare free time writing our novel only to have it rejected by every publisher we approach.
Have we just wasted all that time?
As much as I fear wasting time, I also don't think I really believe in wasted time. (I'm a walking contradiction at times, I know!)
Here are a few reasons why:
We gain something along the way. Sometimes an evening of watching reruns seems like a waste of time. Yet sometimes that same action can provide a level of comfort after a difficult day, or allow us to have a fun conversation with a friend about the plot, or even remind us that while we did that tonight, we don't want to make a habit of it – so it causes us to make a change tomorrow. Being intentional (ie, 'I'm ready for an evening of comfort shows' ) can make a world of difference.
Progress can be just as satisfying as outcome. My stitching friends and I sometimes talk about being a product stitcher vs. a process stitcher; in other words, some people are motivated to finish and frame a piece, whereas others savor the act of creating. And like I say all the time in regards to goals, it's not so much about the achievement as it is who we become along the way. Even though that presentation got cut at the last minute, we still clarified our points, improved our speaking through trial runs, met some fascinating people, and/or gained subject matter knowledge in the process.
We can learn from it all. 'What's the lesson here?' is a question I have trained myself to ask sooner rather than later. Sometimes begrudgingly, and sometimes I'm not ready to answer it – but just knowing that someday I'll glean a lesson from the experience can help me, at least a little bit, in the meantime.
I recently saw a line (attribution unknown) that said, 'Time you enjoyed wasting is never wasted time.'
Maybe if we can apply that philosophy, along with the ideas mentioned above, we'll learn to be more intentional with our time and also more grace-giving with the time we feel we've wasted.
What else would you add to this conversation? Share your thoughts, ideas, and helpful hints below!
We'll be delving into this topic in our upcoming term of the ASPIRE Success Club – and more specifically, deciding when to keep on keepin' on and when to quit. If you'd like to join us, we have a few spots left – click here for details!
---