To What Do You ASPIRE?
Bold Goals.
Purposeful Connections.
Action-Oriented Resources.
Extraordinary Professional Growth.
For 7+ years, ASPIRE has helped professional women achieve beyond their wildest expectations while keeping meaning and purpose at the forefront. By setting a Bold Goal at the start of the year (we'll provide training for that) and garnering the support of other positive, purposeful women for accountability and encouragement, ASPIRE women have published books, earned certifications, launched new initiatives, embarked on new leadership roles, started businesses, increased revenue, won awards and competitions, and more!
We want YOU to experience this, too!
As an ASPIRE member, you will have ample resources and connection points to keep you moving forward throughout 2018 in a positive, purposeful manner. Depending on your membership level, you can experience everything from an ever-growing online Success Library filled with worksheets and resources, to summaries and discussion questions for our quarterly book selections, to monthly membership meetings (in-person and by phone/Zoom), to small group masterminding, to training, to one-on-one coaching, and beyond!
Are you ready to surround yourself with positive, smart, motivated women here to support your growth and elevate your success? Enrollment for ASPIRE 2018 is now open – with 3 membership levels to meet your needs!
***************************
Level 1: ASPIRE VIRTUAL
ASPIRE Virtual is perfect for motivated self-learners seeking resources for growth and online connection, without committing to meetings and other events. Read the books, reflect on the discussion questions in your journal, set and proceed toward a Bold Goal, and enjoy the online discussions and prompts at your own pace! CLICK HERE to enroll in ASPIRE Virtual.
Level 2: ASPIRE SUCCESS CLUB
ASPIRE Success Club is ideal for professional women wanting to connect monthly with other incredible women, set and achieve a Bold Goal, discuss powerful growth-oriented books, and explore ways to support your development throughout the year. In addition to all the benefits provided at the ASPIRE Virtual level, you will also connect with Dr. Christi and your fellow members each month (and sometimes more often, if you wish) to maintain your mindset, take consistent action on your Bold Goal, and explore the best tools and exercises for outstanding purposeful achievement. If you're new to the ASPIRE Success Club, you'll be amazed at how fun learning, goal-setting, and professional growth can be! CLICK HERE to enroll in the ASPIRE Success Club!
Level 3: ASPIRE ACADEMY
ASPIRE Academy is designed specifically for professional women who are, in a nutshell, ready for their absolute best year yet! In addition to all of the Success Club and Virtual benefits, Academy members will experience significant growth through regular (monthly, if you choose) training, masterminding, 1:1 and small-group coaching, and more. In a gentle but firm way, you will learn how to break through any fears or limiting beliefs holding you back and begin fulfilling your highest, most purposeful, make-a-difference potential. Aside from private coaching, the Academy provides Dr. Christi's highest level of support and at a fraction of the investment of coaching. REGISTRATION FOR THE 2018 ASPIRE ACADEMY HAS CLOSED. Contact us to be placed on the waiting list!
Below you'll find an at-a-glance chart to help you determine which level is right for you. You can also download the ASPIRE '18 flyer here: 2018 ASPIRE – Enrollment Flyer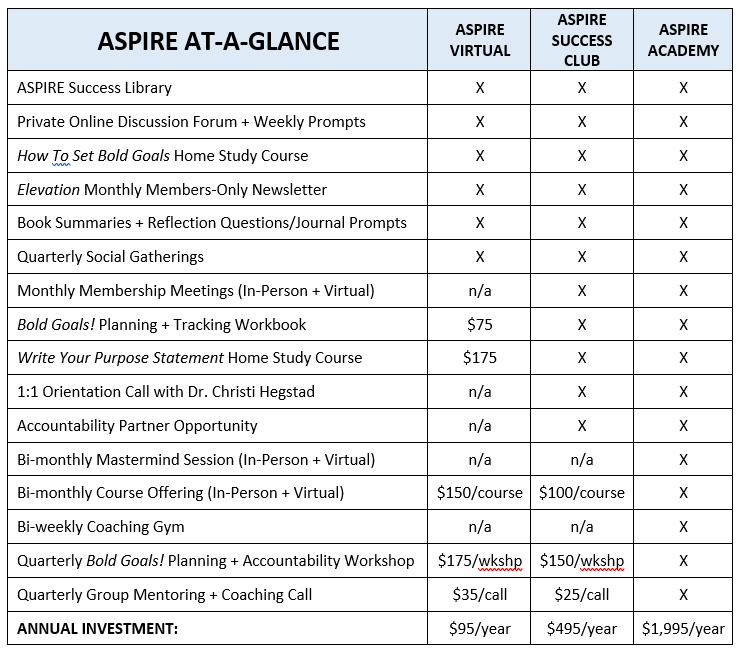 READY TO ENROLL?
Space is limited, Earlybird Rates are in effect, and enrollment will close soon. Decide and take action today!
To join ASPIRE Virtual: Click here
To join ASPIRE Success Club: Click here
Contact us to be placed on the ASPIRE Academy waiting list.
Click here to visit our FAQ page for answers to common ASPIRE questions. Still have questions? Contact us – we are happy to help!