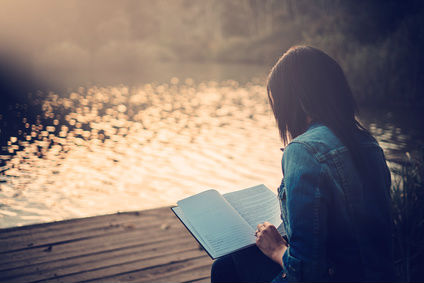 Narrowing down 100 or so books to my two top ten lists (fiction and nonfiction) is rarely an easy feat, and this year is no exception! Here I offer my best attempt in the nonfiction realm, however there are at least four other books that might swap onto this list depending on the day.
As always, these aren't necessarily books published in 2022, just ones I read during the year. They opened my eyes, made me think, and in many cases, changed my behavior – the mark of some truly outstanding books, in my opinion! We'll be delving into several of these in the ASPIRE Success Club throughout 2023 if you'd like to discuss them – and other awesome books – further!
4,000 Weeks by Oliver Burkeman
It's always exciting when the very first book you read in a year ends up on your top ten list 52 weeks later! I adored this unique and thoughtful look at how we can use our limited time on earth – on average, about 4,000 weeks – to live to the fullest and make our difference.
How To Change by Katy Milkman
If you liked Atomic Habits, Grit, and Think Again, delve into this one ASAP. This would be an excellent book to start off the year with, however I read it during the summer and it was equally profound! Her research, compelling stories, and clear examples shine; I listened to the entire audiobook in a day followed by tabbing things left and right in my physical copy.
Braiding Sweetgrass by Robin Wall Kimmerer
This was the kick-off book to my 2022 expansive reading project and opened the door to a number of nature and environmental books for me. Kimmerer blends her Indigenous wisdom, environmental biology education, and parenting/life experience to form this beautiful resource. I highly recommend both the audio and print versions.
Why Bother? by Jennifer Louden
On my way to the bookstore for a completely unrelated book, I happened to hear Louden on a podcast discussing this one – and I ended up buying it as well. She flips this often-negative question – why bother? – on its head in the most compelling way, and I haven't stopped thinking about it since.
The Soul of an Octopus by Sy Montgomery
I had no idea how fascinated I would become by octopuses this year (which, according to Montgomery, is the correct plural form of octopus – not octopi as many of us have thought!). I learned so much while being completely engaged in her story. Fun fact: one of my favorite fiction reads this year also features an octopus – Remarkably Bright Creatures by Shelby Van Pelt!
Tranquility By Tuesday by Laura Vanderkam
I have read so much on the topic of time management – including all of Vanderkam's previous books – that I honestly wasn't expecting any new insights from this one. I love it when I'm proven wrong in this manner! An excellent, fresh perspective for navigating time, and would make a great companion read with 4,000 Weeks.
The Joy Of Movement by Kelly McGonigal
My sister recommended this one and I listened to it on a series of walks – a fantastic way to take it in! McGonigal explores research and anecdotal evidence around exercise and movement in a way I've never read before, looking at it in terms of community, making a difference, connecting with the environment, and more. Super uplifting, insightful, and motivating.
Anthropocene Reviewed by John Green
I've heard Green's latest book described as a comfort read, and I can see why. Written during the height of the pandemic, this book is part memoir, part exploration of simple gifts, part warm hug. He takes various things in the world – from teddy bears to Diet Dr. Pepper to Canada geese – and rates them on a 5-point scale. Both fun and thought-provoking.
Disability Visibility by Alice Wong (ed.)
This thoughtful collection of essays written by people living with a variety of disabilities opened my eyes to so much, and I am ever grateful. With honesty, candor, and grace, the contributors highlight both challenges and triumphs experienced throughout their lives, as well as misconceptions, achievements, and ongoing advocacy work needed to support people with all kinds of disabilities – both seen and unseen.
The Day The World Came To Town by Jim DeFede
Somehow this book, published 20 years ago and adapted into a Broadway musical, never made it onto my radar until this year. A fantastic story of humanity focusing on how the people of Newfoundland, Canada came together to support the numerous passengers and crew of planes that were rerouted there on September 11, 2001. Pick this one up to restore your faith in the goodness of people.
What were some of your favorite books this year? Share in the comments below!
---