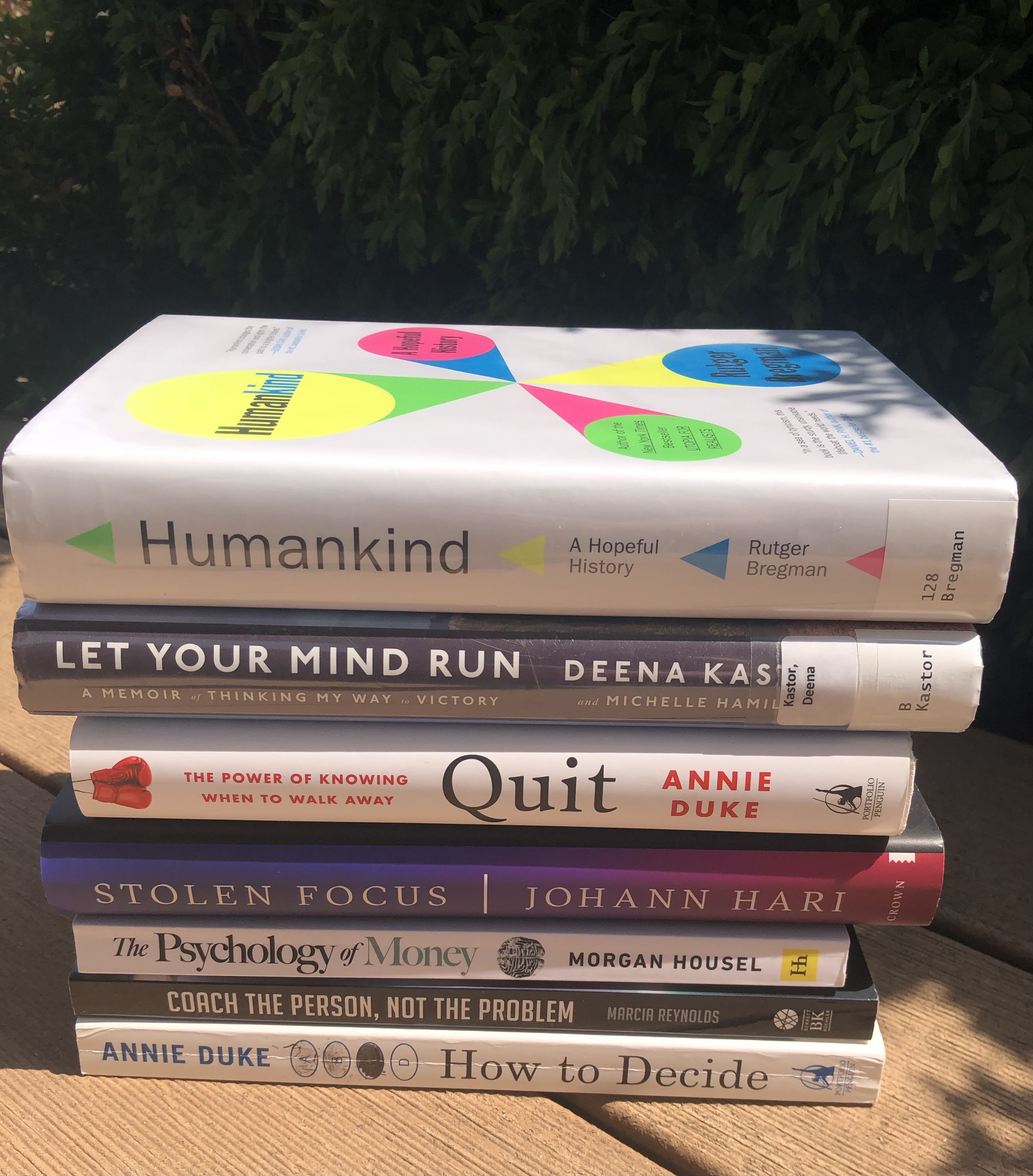 What is your favorite book?
I know, I know – such an unfair question to ask, especially if you are a book lover and/or voracious reader. How about this instead:
What's your favorite book of the year so far?
That's at least a little easier for me to answer. As of today, I've read 32 books in 2023, and a few really stand out. I'll tell you about some of my nonfiction favorites here today; if you'd also like to know my top fiction picks, leave a comment below and I can certainly share those as well!
So far in 2023, my favorite nonfiction reads include:
Let Your Mind Run by Deena Kastor and Michelle Hamilton
This motivating memoir comes from a world champion distance runner who – in addition to massive training, great coaching, and incredible dedication – in large part credits mindset work and optimism for helping her reach elite levels in her sport. I so appreciated her drive, kindness, competitive spirit, encouragement of others, and courage. I listened to much of this on audiobook while walking (at a much slower pace than Kastor, I assure you! :-)) – a very inspiring way to read this one!
HumanKind by Rutger Bregman
A beautiful, scientific, hopeful view of our world and the people in it, all in one well-researched and thought-provoking book. Bregman shares so many facts, data, and stories that rarely show up in the news but point to the goodness of people. I loved the humanity inherent in the text and the focus on facts versus sensationalization. A powerful read, filled with great stories as well as actions we can take to continue improving our world and ourselves.
Quit by Annie Duke
I'm not sure how I didn't hear of Annie Duke until this year, but I've since read three of her books in rapid succession! She writes from an interesting perspective of someone with a background in academics (cognitive psychology) as well as professional poker playing, sharing memorable stories and citing many top-tier experts (Katy Milkman, Adam Grant, Angela Duckworth, and more) as well. I found Quit so thought-shifting that we've dedicated this quarter of the ASPIRE Success Club to exploring the power of quitting and of persevering further.
A few other books I have enjoyed and learned from this year so far include:
Stolen Focus by Johann Hari
Coach The Person, Not The Problem by Marcia Reynolds
Bad Vibes Only by Nora McInerny
The Psychology of Money by Morgan Housel
How To Decide and Thinking In Bets by Annie Duke
Have you read any of these? What's your favorite book of the year so far?
---