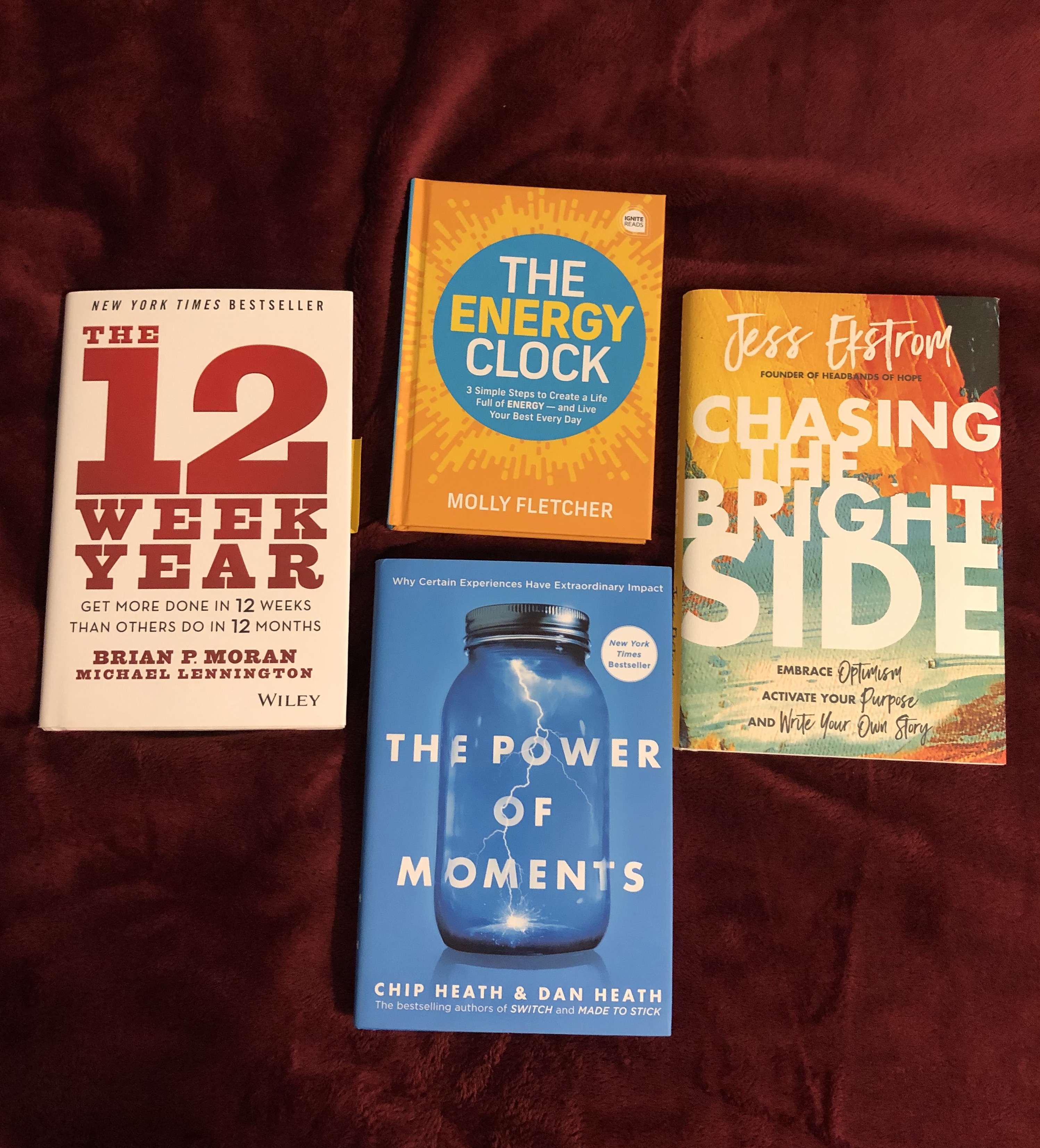 Imagine the ease and delight in knowing you have an entire year of personal and professional development lined up!
The 2021 ASPIRE Success Club is now enrolling – for a limited time! If you love the idea of connecting with a positive, inspiring group of achievers each month to set and reach your most meaningful goals, build extraordinary relationships, discuss exceptional personal and professional development concepts, learn new techniques and proven best practices, and have a built-in cheerleading squad, this is the group for you! Click here to learn more and join!
In addition to all of the above features, we recommend four books throughout the year to support our discussions and personal / professional growth. As we now enter our 11th year of the ASPIRE Success Club, we've established quite a collection of excellent books! Below you'll find the four we've selected for 2021:
The 12-Week Year by Brian Moran + Michael Lennington
Every year, ASPIRE members receive the training and support to set and reach a Bold Goal – one that typically takes the better part of the year to achieve. In 2021, however, we are adding a quarterly Bold Goal focus, which Moran + Lennington's book will complement well.
If you tend to be most productive as you near a deadline, or if 4th quarter tends to outshine the rest of the year in terms of sales or production (as it does for many), this book challenges us to adopt that "home stretch" experience much more effectively. I'll be weaving in some principles from The 4 Disciplines of Execution by McChesney, et al in our ASPIRE Success Club meetings here, too.
Chasing The Bright Side by Jess Ekstrom
What role does optimism play in business and leadership? For Ekstrom, founder and CEO of Headbands of Hope, a significant one – and she shares her story and so much more in this delightful and insightful book. Her actions and principles support much of what positive psychology has taught us over the past couple of decades, and she writes about them in such an engaging way that you feel like you're reading a novel – or a letter from a friend.
I can't wait to share with ASPIRE the strategies I learned while earning my Positive Psychology + Wellbeing Coaching certification, and align them with concepts from this enlightening book!
The Energy Clock by Molly Fletcher
I have read approximately a million time management books (give or take
), but Fletcher's takes the concept ten steps further. I love her three suggestions for categorizing activities based on how they impact our energy, and then her sound solutions for implementing change to increase our wellbeing, effectiveness, and joy.
This is a quick read that packs a powerful punch, and I am excited to supplement it in ASPIRE with the time, energy, and purposeful productivity tools and resources that I often use in my coaching practice.
The Power of Moments by Chip Heath + Dan Heath
We typically pay special tribute to big life events: graduations, weddings, and the like. But as we grow, we tend to learn that the most meaningful experiences in our lives aren't necessarily the big, grand to-do's but rather the small, poignant moments.
The Heath brothers share so many examples of powerful moments that I never would have even thought to celebrate or mark somehow – but now I definitely do! ASPIRE members will love the experiential activities we'll introduce to truly make moments count in work, leadership, and life!
We only open enrollment to the ASPIRE Success Club once per year, and now is that time (and for just a little while longer!). Join today and rest easy in knowing you have an entire year of personal and professional development lined up in 2021!
Questions? Email us here – we're happy to help!
Here's to the clarity, community, and coaching of ASPIRE to support our FLOURISHING 2021!
Join us for big dreams, bold goals, and abundant meaning and purpose in the ASPIRE Success Club! Our once-a-year enrollment is NOW OPEN for a limited time – get the details and join us here!
---