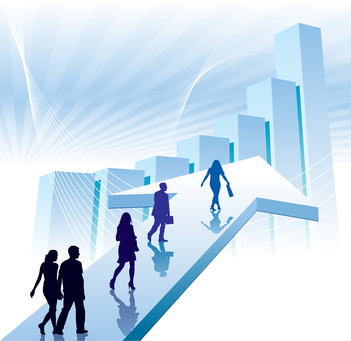 "Success is not a doorway, it's a staircase." ~ Dottie Walters
"I have arrived!"
Have you ever longed to say those words? To know that you've finally made your mark, become known, or hit your financial stride?
We can typically enter a doorway with a single step. The threshold is low, the step can be small, and we could even do it with our eyes closed and hands tied behind our backs.
A staircase? That's another story. Like a ladder, you need to put some muscle into that upward climb. You may not even see the end of the staircase when you start. It may be a while – a long while – before you feel you've arrived.
And you can't climb a ladder with your eyes closed and your hands in your pockets.
Don't let stories of "overnight successes" make you feel like a failure if you've pursued your dream for months or even years. A Fast Company article shared how the game Angry Birds took 52 attempts, 8 years, and near-bankruptcy before its popular release.
James Dyson had over 5,000 failed prototypes of his revolutionary vacuum cleaner.
And did you know that WD-40 got its name because the first 39 experiments failed?
J.K. Rowling, Oprah Winfrey, the Chicken Soup for the Soul books…all seemed to shine in the spotlight overnight, but all experienced years of trial, rejection, and effort first.
As you climb your staircase of success, remember:
Each step builds on and strengthens your foundation;

You can pause to catch your breath;

There is beauty and success with each step – not just at the top.
Martin Luther King Jr. eloquently reminded us that we don't have to see the whole staircase – we just need to take the first step in faith. Set your intention, clarify your vision, and start climbing the staircase – now.
You'll only "arrive" if you begin!
Please share your thoughts or tips below, on our Facebook page, or via Twitter!
Want to take a giant leap up the staircase of success? Join us for Spark! Click here for details!
Dr. Christi Hegstad helps you successfully do what you love! As President of MAP Professional Development Inc., she coaches business owners and leaders to get unstuck and reach Bold Goals with clarity, confidence, and meaningful action. Learn more at www.meaning-and-purpose.com and follow Dr. Christi on Facebook and Twitter.
---