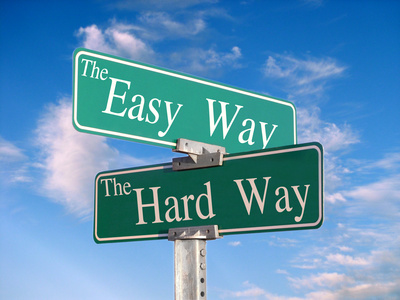 Ask yourself one question: Do I have to change or does someone else have to change for me to succeed? Resilient people identify and then focus on the things they have control over, rather than try to change things over which they don't.
~ Jean Chatzky
What can you do?
This brief question, brought up in the right moment, can be your difference-maker. When we feel stuck, many of us tend to focus on all the circumstances that put us in that place: the economy, past mistakes, delays of other people, and so on.
You might fall into a helpless state of "there's nothing I can do." What if you reframed that to ask, "What can I do?"

In her book Reality Based Leadership, author Cy Wakeman shares three common stories that keep us stuck;
Victim stories, in which we are the innocent sufferers. "It's not my fault."

Villain stories, in which others' nasty qualities are emphasized. "It's all your fault."
Helpless stories, in which we convince ourselves that we have no options to change the situation or take healthy action. "There's nothing I can do."
How often do any of these stories show up in your work and life?
Simply shifting your focus from blaming external influences (no matter how real they are) to asking what you can do about them will shift not only your mindset, but your resiliency as well.
Lynne Robinson, a prosperity author, wrote the most beautiful sentence capturing this essence: "She'd stopped asking, 'Why can't I?' and begun asking, 'How can I?'"
Think of your wildest, craziest dream – maybe something on your Life List (aka, bucket list) that sounds awesome but, if you're completely honest, you don't really see happening. What if I assigned you – just for fun, no strings attached – to start writing ideas for how you could make it a reality. Could you come up with 20?
What if I said, "I'll pay you $1,000 to come up with 20 possible ideas to make your dream a reality" – then could you?
With the right mindset and ample motivation, you can do whatever you dream of doing. And how mind-boggling to think that it may simply mean changing your vocabulary – from why you can't to how you can.
Your thoughts? Feel free to share below, on Facebook, or via Twitter!
If you need a total mindset lift, join us for Spark – just 2 seats left! Click here for details.
Dr. Christi Hegstad helps you successfully do what you love! As President of MAP Professional Development Inc., she coaches professionals to get unstuck and reach Bold Goals with clarity, confidence, and meaningful action. Learn more at www.meaning-and-purpose.com and follow Dr. Christi on Facebook and Twitter.
---