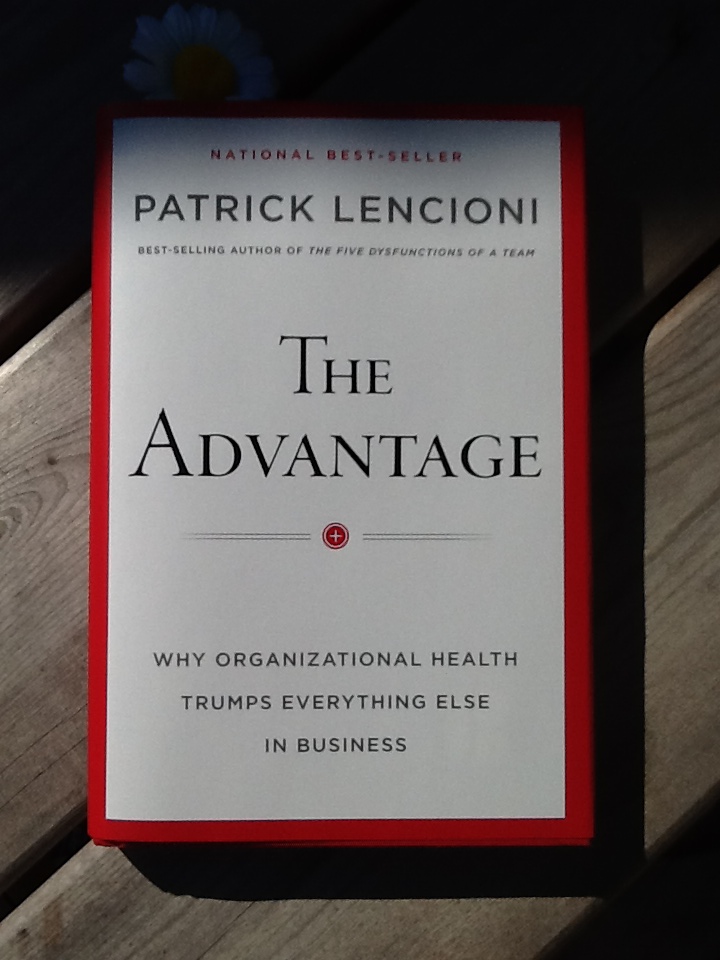 Although I am a big reader, I am typically not a fan of "workplace parables," which explains why I haven't been particularly drawn to Patrick Lencioni's work in the past despite seeing his books on the bestseller lists.
When he released a non-parable book last year, The Advantage, I decided to take a peek. I ended up reading (devouring) the book quickly and about wore out a highlighter in the process!
In brief, The Advantage serves as a guide to organizational health. Right from the start, Lencioni highlights two requirements for success: an organization needs to be smart (in terms of strategy, finance, marketing, and the like) and healthy (minimal politics and confusion, high morale and productivity). Rather than providing simple "quick fixes" for organizational health that don't last, he offers a more sustainable culture shift: one underscored by strong leadership, recognized values, and defined purpose.
One of the longings I hear most often from my executive clients is their desire for clarity – an issue Lencioni has obviously experienced as well, since 3 of his 4 disciplines in The Advantage revolve around this topic. I was reminded of Cy Wakeman's statement in Reality Based Leadership: "Ambiguity is the source of all conflict." When we can clearly communicate goals, expectations, procedures and values, we reduce tension and misunderstandings and increase levels of engagement.
While profound statements – and more importantly, thought-provoking questions for organizational leaders to ask themselves – abound throughout the book, my favorite appears within Discipline 2 – Create Clarity. Here, Lencioni discusses the importance of knowing your purpose and asserts that all organizations exist to make people's lives better.
"Now that doesn't mean that all organizations make people's lives better in major, transformational ways," he writes. "And it doesn't mean they make ALL people's lives better. Nonetheless, every organization must contribute in some way to a better world for some group of people, because if it doesn't, it will, and should, go out of business."
He continues with a question all organizations should ask themselves first and frequently: "How do we contribute to a better world?"
That question alone, and the discussions that will ensue from it, make this book worth the investment, in my opinion. I also appreciate his exercises that focus on building on people's strengths to make a stronger, healthier organization.
Whether you lead a large corporation or own a small business, the takeaways from The Advantage will benefit your organizational health. And if you, like me, are not a fan of leadership parables, you'll be relieved to know that Lencioni's storytelling skills make this an enjoyable read, too!
Dr. Christi Hegstad helps you successfully do what you love! As President of MAP Professional Development Inc., she coaches professionals to get unstuck and reach Bold Goals with clarity, confidence, and meaningful action. Learn more at www.meaning-and-purpose.com and follow Dr. Christi on Facebook and Twitter.
---