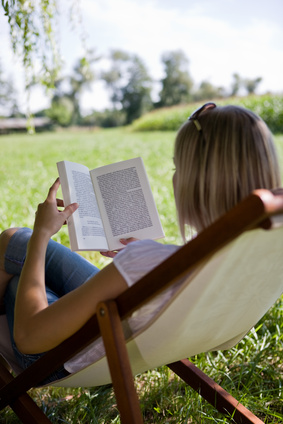 One of my favorite summer scenarios involves my deck, a cool drink, and a can't-put-down book. Whether it's a gripping novel or a career-building resource, my day doesn't feel complete without words on a page. Can you relate?
I often post my book reviews on our blog, Amazon.com, and Facebook. Today, instead of reviewing just one book, I'll share 5 takeaways from various readings.
Whether you're not getting in as much book-time as you'd like or you're sticking to fiction this summer, you can use these takeaways to enhance your work and grow your career or business. Maybe you'll add a book or two to your must-read list, too!
1. Design your sense of balance. We throw around the word "balance" as though we could weigh our activities on an old-fashioned scale and find equal measures all around. Actually, we each need to define balance for ourselves – which starts with knowing our values and clarifying our priorities. "Find what it feels like to live a meaningful life, to feel that your life matters," says Professor Ernst Bohlmeijer in Flow magazine. "That when you look back on your life, you can think, 'I don't regret a thing.'" Honor what matters.
2. Connect with your "tribe." Whether that's fellow entrepreneurs or HR executives or board members or upbeat friends; whether through workshops or coffee dates or conferences; connect regularly. As Jacki Zehner shared with Pamela Ryckman in Stiletto Network: "This is a period in history where we are not only imagining but knowing that if we get together and push, we'll take a giant leap forward." These connections help us as individuals, our families, even our economy.
3. Just make a decision already. If you wallow in indecision or get lost for weeks in a list of pros and cons, take Karen Finerman's advice (Finerman's Rules) and "realize that the future of the planet doesn't rest on every decision." Equally important: polling (asking everyone's thoughts and opinions) does not equal deciding. My most helpful mantra in this department for years has been Decide & Take Action.
4. Find – or create – the joy in your work. Now. "With roughly half of our waking hours devoted to our work life," writes Tommy Newberry in 48 Days To A Joy-Filled Life, "it better bring us great joy!" When your work matters to you, makes a difference to others, and allows you to engage your strengths on a regular basis, you will experience meaningful joy at work – and reap all kinds of rewards, too.
5. Know your purpose, personally and professionally. You'll make wiser decisions, take more streamlined actions, and impact our world more fully when you have clarity around who you are and what you're here for. In The Advantage, Patrick Lencioni states the importance for organizations to clarify their purpose: "It starts by asking the question, 'How do we contribute to a better world?'" You, personally, can start with that question, too.
If you're looking for more reading recommendations, I'll be sharing some of my all-time favorites at Spark this fall! And whenever you read – whether for professional growth, relaxation, fun, or all of the above – ask yourself what you can take away from the book and apply to your life.
Remember, readers are leaders!
What are you reading this summer? Share your book recommendations below, on our Facebook page, or via Twitter. For more information on SPARK, click here.
Dr. Christi Hegstad helps you successfully do what you love! As President of MAP Professional Development Inc., she coaches professionals to get unstuck and reach Bold Goals with clarity, confidence, and meaningful action. Learn more at www.meaning-and-purpose.com and follow Dr. Christi on Facebook and Twitter.
---