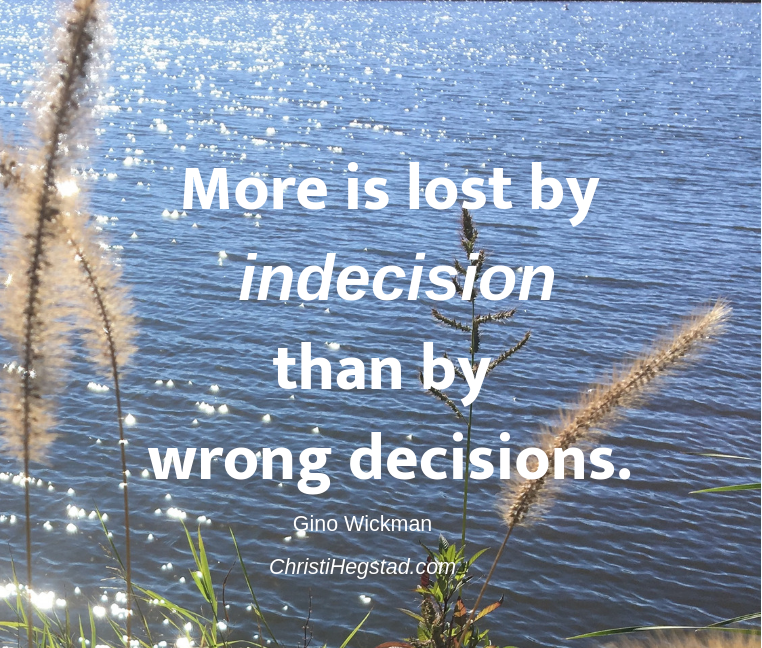 "More is lost by indecision than by wrong decisions." – Gino Wickman
Do you agree?
.
Shortly before this line appears in his excellent business book, Traction, Wickman writes, "What drains your energy is not having a lot of work to do; rather, it's having unresolved issues."
.
Perhaps you feel energized by the promise of a new year around the corner. If so, carry on!
 .
On the other hand, if you feel drained, depleted, or worn out to some extent, many possible reasons exist, of course – but perhaps indecision and incomplete projects play a role. I know they tend to contribute to my own mental clutter as much as anything.
.
Inspired Action:
This week, tie up as many loose ends as possible.
.
As I described it to ASPIRE Success Club members, think of it like a contractor's 'punch list' upon completion of building a new home.
.
Make a big list of unfinished projects, unresolved issues, unmade decisions, and so on.
.
Then, begin completing them. Start with the quick and easy items to get some early wins and build momentum. Check as many as possible off your list between now and the end of the year.
.
Pay attention to your energy level while you're at it. I bet it rises along with your hopes of a more clear and purposeful new year!
.
Due to substantial growth experienced during our 2019 ASPIRE Success Club enrollment period in November, we are adding more sessions to accommodate – which means we have a few new open spots available as well! Click here to make one yours. Next year at this time you will be SO glad you did!
---