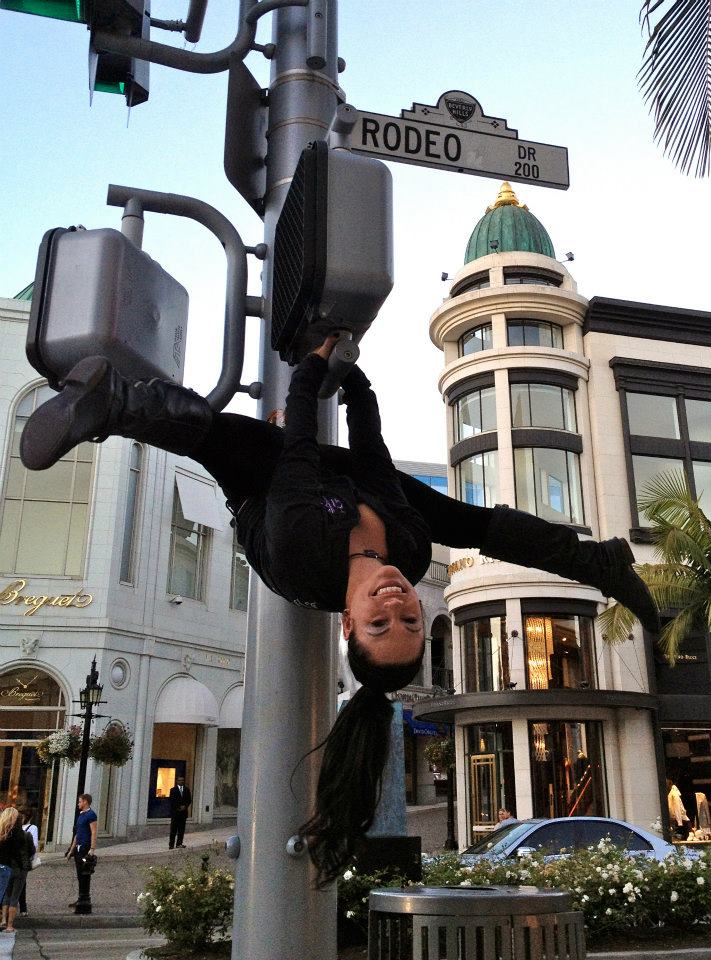 Every day is a new chance to do what you love and make the most of your life.
Amber Cahill
What do confidence, purpose, and pole fitness have in common? The ASPIRE Success Club discovered the answer to this question and many more in our recent Adventures In Boldness interview with Amber Cahill, owner of TGR Fitness.
With a degree in elementary education and a Master's in reading, Amber's career path has taken some unexpected turns which – and this is key – she was open to pursuing. She began her foray into pole fitness by simply saying "Yes" when a friend asked her to attend a class several years ago. When the time came to make a decision about her own "next chapter," Amber chose in favor of her passions and opened a pole, aerial hoop, and so-much-more fitness studio, celebrating 4 years this month. TGR's mission is to provide innovative fitness in fun, healthy, and energizing ways.
Her now-thriving business has succeeded despite – or perhaps in part because of – the barriers she has faced along the way. "Adversity causes some people to break," William Arthur Ward famously wrote, "and others to break records." Amber has chosen to use her challenges to help her and her business grow.
So, how do you rally the strength to boldly and gracefully push through barriers on your path to doing what you love? Three of Amber's tips:
1. View Obstacles As Roadbumps – Not Barriers.
From day one, Amber faced challenges with bringing her business idea to life. After finding the perfect space, for example, her lease was suddenly denied when one influential person felt her business was "offensive." Rather than retreat with any of the obstacles she faced, Amber viewed them as opportunities to educate. "If we can take those moments that crush us and learn something from them, we can grow," Amber reminds us. She pays attention to others' concerns and the various obstacles that arise, but she doesn't let them define her. "Remember your own voice," she advises. "Know what feeds your soul."
2. Balance Passion With Discipline.
With over 50 different types of classes, clientele vastly ranging in age and ability, and a combination of group work, competition prep, and personal training, no two days are the same for Amber. In addition to running her business, she is married, has 3 children, and volunteers in the schools. "I love that every day is different," Amber shares, "but this also requires me to be highly disciplined, organized, and a good time manager." One practice that supports her: a nightly review of her calendar, priorities, and activities for the next day – ensuring that she focuses her precious time on what matters most.
3. Know Your Purpose.
Providing innovative fitness in ways that build community and connection is what fuels Amber each day. Her clients have experienced numerous physical benefits, from dramatic weight loss to getting off medications to changing the course of their health. Just as important, Amber witnesses personal transformations in her clients every day, such as growing self-confidence and an increased sense of strength. Seeing people who were once uncertain and feeling alone begin to believe in themselves – and to know they are surrounded by a community of others who also believe in them – provides amazing motivation to keep going even when the roadbumps appear.
Doing what you love isn't always easy, but when you keep obstacles in perspective, practice self-discipline, and clarify your purpose, even the challenges become rewarding. "We get one life. We have to make the most of it – and sometimes that means pushing the envelope," Amber shares. "I have not yet found my full potential, and I'm going to keep pushing until I find it."
Learn more about Amber and TGR Fitness here.
Dr. Christi Hegstad helps you successfully do what you love! As a Certified Executive and Leadership Coach and the President of MAP Professional Development Inc., she coaches executives and leaders who feel stuck – whether in their leadership abilities, at a certain income level, or "spinning their wheels" in the day-to-day – to flourish towards a purposeful vision with clarity, confidence, and meaningful action.
Receive helpful articles, resources, and 5 audios – for free! Click "Join Our Mailing List" above.
Learn more at www.meaning-and-purpose.com, on Facebook, and via Twitter.
---