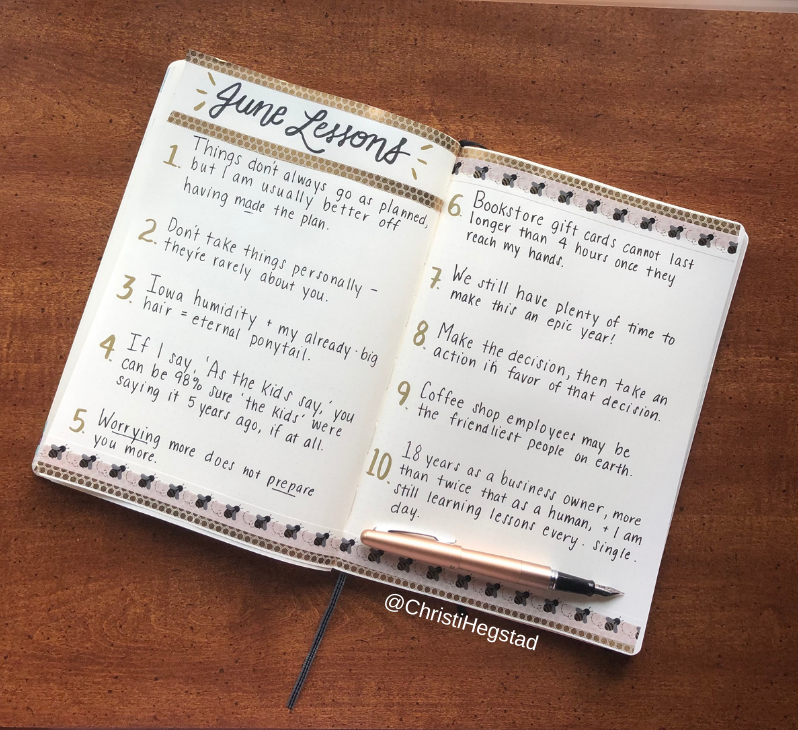 I may be in denial that June is wrapping up already, but I certainly can't deny the lessons it has brought me! Here are a few that stand this month:
1. Things don't always go as planned, but I am usually better off having *made* the plan.
2. Don't take things personally – they're rarely about you.
3. Iowa humidity + my already-big hair = eternal ponytail.
4. If I say, 'As the kids say,' you can be 98% sure 'the kids' were saying it 5 years ago, if at all.
5. *Worrying* more does not *prepare* you more.
6. Bookstore gift cards cannot last longer than 4 hours once they reach my hands.
7. We still have plenty of time to make this an epic year!
8. Make the decision, then take an action in favor of that decision.
9. Coffee shop employees may be the friendliest people on earth.
10. 18 years as a business owner, more than twice that as a human, and I am still learning lessons every. single. day.
Which one resonates with you? What's a lesson you learned this month? Let me know in the comments below or on LinkedIn or Instagram!
Christi Hegstad, PhD, PCC, is the Practical + Purposeful Coach for Achievers!  Join our email community for weekly coaching tips, free resources, and more!
---