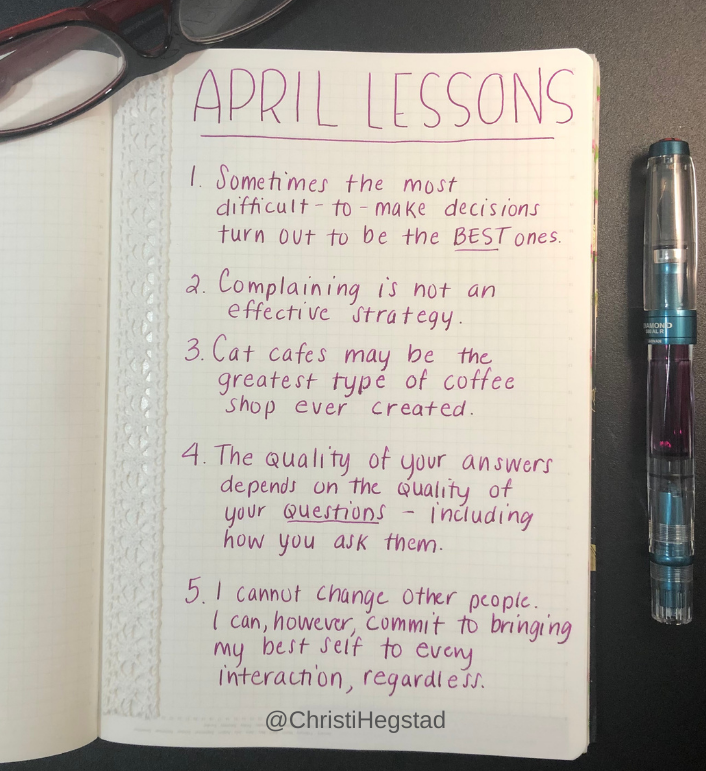 I've had so much fun hearing your feedback since I started posting these monthly recaps over a year ago! Please keep sharing your thoughts, comments, and your own lessons learned – I love to hear from you.
1. Sometimes the most difficult-to-make decisions turn out, in the end, to be the best ones.
2. Complaining is not an effective strategy.
3. Cat cafes may be the greatest type of coffee shop ever created.
4. The quality of your answers depends on the quality of your questions – as well as how you ask them.
5. I cannot change other people. I can, however, commit to bringing my best self to every interaction, regardless.
Do any of these resonate? What lesson(s) did April teach you?
Christi Hegstad, PhD, PCC, is the Practical + Purposeful Coach for Achievers! Contact us to inquire about coaching possibilities to help you create a meaningful career and purposeful life.
---