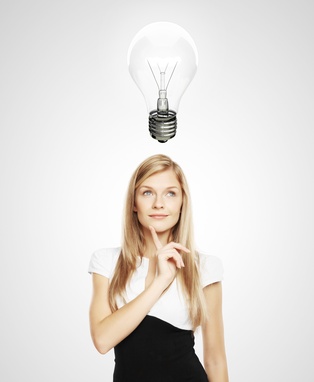 Last year I began coaching a client who seemed to have everything together: a successful business, a happy family, a supportive network of friends, even a regular exercise routine she enjoyed. With her bubbly personality and ability to connect with anyone, you'd probably classify her as a woman who "had it all."
When we began establishing her coaching goals, however, a different side emerged. She shared huge dreams and bold ideas, but when we started putting them to paper and creating goals around them, she waffled. She lit up talking about these dreams in the "someday" sense, but activating them now? I heard a lot of:
"I don't know…"
"That doesn't seem possible…"
"I don't think I can do that."
In other words, the dreams were there; the confidence – not so much.
I'm a firm believer that we aren't given a dream without also being given the ability to make it happen. But we need confidence to bring those big dreams and bold goals into fruition – that sense of knowing that we can do it.
While playing small may feel safe and comfortable, it benefits no one. The world needs your unique contribution. So if you're holding back from your dreams in any way, take these actions to get started:
Look at your track record of success.
My clients create a Celebration of Triumphs early in our partnership – a list of wins, accomplishments, and successes to which they can refer whenever they need a reminder of their greatness. Generate one for yourself as a confidence booster.
Look at others' successes.
Not from a jealous perspective, but with the open and expansive mindset of a learner. You can find great power in the "If Them, Why Not Me?" approach.
Get support.
Don't you love it when you share an idea, perhaps in its infancy, and someone says, "You can TOTALLY do that!"? Garner a team of support to help boost your confidence and partner with you to generate a strategy for your success.
The truth is, you can do it. Now is the time to step off the sidelines, get into the game, and play big. We need you and your dreams now more than ever!
And the client I mentioned earlier? She has grown her team, taken several vacations, received community recognition, increased her revenue, and is now considering expanding her business. She even purchased her dream car along the way – something she assumed would have to wait until retirement!
Let me say this again: You can do it. The world needs your contribution, and NOW is the perfect time. Like Karen Ireland says, "Waiting until everything is perfect before making a move is like waiting to start a trip until all the traffic lights are green."
Let your brilliance shine!
Does this resonate with you? Confidence, expansion, and the power of your mindset comprise an important part of Spark – click here to join us!
Dr. Christi Hegstad helps you successfully do what you love! As President of MAP Professional Development Inc., she coaches professionals to get unstuck and reach Bold Goals with clarity, confidence, and meaningful action. Learn more at www.meaning-and-purpose.com and follow Dr. Christi on Facebook and Twitter.
---