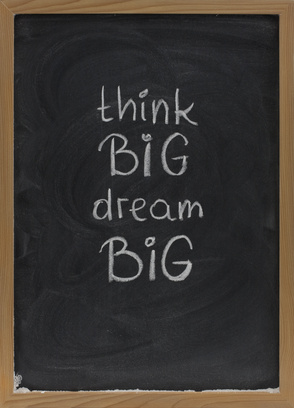 CLARITY KICKSTART: September 9, 2013
"The problems of the world cannot possibly be solved by skeptics or cynics whose horizons are limited by the obvious realities. We need people who can dream of things that never were."

~ John F. Kennedy
Coaching Tip For The Week:
Do you ever feel just plain overwhelmed?
Sometimes the issues we face – at home, at work, in the world – seem so heavy and encompassing, it's difficult to see a solution or a way through. If we keep doing what we've always done, we'll likely keep getting the results we've always gotten.
This week, consider a problem that's weighing heavily on you. Next, imagine the ideal. Dream big, perhaps – as JFK said – of things that never were. Then, choose to do something – even just one thing – different, acting in accordance with your ideal picture.
When you start to act from the place of what could be, your results will grow accordingly. This is where true change begins!
Dream B I G with us at Spark – just 9 seats remain! Click here (quickly!) to join us!
Dr. Christi Hegstad helps you successfully do what you love! As President of MAP Professional Development Inc., she coaches professionals to get unstuck and reach Bold Goals with clarity, confidence, and meaningful action. Learn more at www.meaning-and-purpose.com and follow Dr. Christi on Facebook and Twitter
---