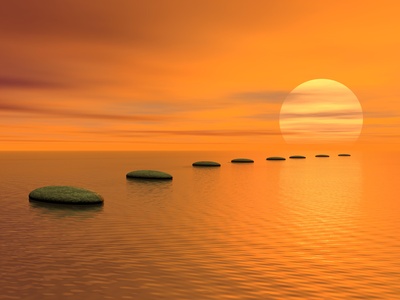 CLARITY KICKSTART: May 26, 2014
"I learned that the ability to attain inner calm, regardless of outside turmoil, is a kind of strength."
Coaching Tip for the Week:
Can you maintain a sense of calm even amid chaos?
Inner calm is definitely a kind of strength, and a much-needed one when you have others looking to you for direction.
Just like you can strengthen your body with exercise, you can develop your inner strength as well. Meditation, journaling, visualization, and focused breathing are all wonderful methods for strengthening your inner calm.
Another often-overlooked but highly useful one? Slow down. Even a few seconds before responding can make the difference between a reaction that leads to regret and a helpful, proactive reply.
This week, practice the 3-second rule. Whatever turmoil you find yourself in – a frustrated customer, a looming deadline, a tantrum – slowly count to 3 before responding. In those 3 seconds, picture your ideal outcome of the situation, then respond in alignment with that.
3 seconds doesn't sound like much but can absolutely make the difference.
How do you remain "the calm within the storm"? Inspire others by sharing your thoughts below, on our

Facebook page

, or via

Twitter

!
Dr. Christi Hegstad helps you successfully do what you love! As a Certified Executive and Leadership Coach and the President of MAP Professional Development Inc., she coaches executives and leaders who feel stuck – whether in their leadership abilities, at a certain income level, or "spinning their wheels" in the day-to-day – to flourish towards a purposeful vision with clarity, confidence, and meaningful action.
Receive helpful articles, resources, and 5 audios – for free! Click "Join Our Mailing List" above.
Learn more at www.meaning-and-purpose.com, on Facebook, and via Twitter.
---