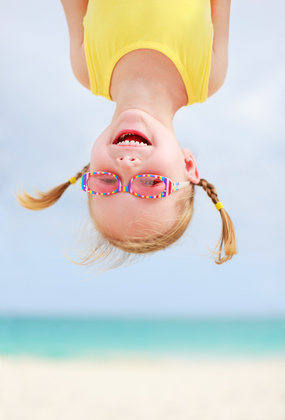 If you've spent any amount of time around children – raising them, teaching them, or even just observing them – you've probably bowed your head in wonder and gratitude at all that you've learned from them. I know that's definitely been the case for me! So many life lessons from such little people. 🙂
This summer has brought a flurry of activity with my children, lately in the form of sports. Sitting in the cheering sections has offered me a good deal of time to reflect. And while I've learned more about life and love as a parent than I could ever have imagined, today I'll offer 3 lessons stemming from their sports activities that you can easily adapt to your professional success:
1. Harness the power of vision.
One of my sons started karate nearly 2 years ago and has set the long-term goal of earning his black belt – a process that can take 5 years or more. I consider this a big deal for anyone, but especially for someone who hasn't been alive much longer than that yet! He has a clear vision and knows that all his hard work in the meantime is bringing him closer to that vision. His dedication motivates and inspires me!
When you have a clear and compelling vision, you can endure the challenges, hard work, and obstacles much more easily.
2. Lead with confidence.
My daughter loves to ride horses and has done so competitively throughout the year. When atop a 1,600-pound animal with a mind of its own, she needs to know who's in charge and own it – which takes remarkable self-confidence. At the same time, she must be sensitive to her horse's needs; sensing when he's not feeling well, for example, and adjusting accordingly. I marvel at her confidence and grace!
As a leader, you must believe in your compelling vision (see #1) and guide your followers with confidence, strength, and compassion.
3. Bring your sense of humor.
A few weeks ago, my older son went straight from a theater performance to his state baseball tournament. Although he had time to change, he decided to keep the handlebar mustache part of his costume on throughout the tournament. It didn't deter at all from his focus, dedication, and hard work during the games – but brought a sense of levity that helped with morale. I appreciate how he can lighten the mood so quickly and easily!
Don't check your personality at the door. A light-hearted, caring attitude can bring your team together, whether you're a baseball player or CEO.
Throughout it all, whether I'm watching my children or others, I can easily tell who has a passion for what they're doing and who does not. Relating this to the professional world, I'd be willing to bet that when you're in the check-out line at the grocery store, you can discern which clerk enjoys his job and which one is just punching the clock, right?
Take this to heart in your career. Clarify your vision, build your confidence, and enjoy the ride – all while doing something you love. It makes all the difference in the world!
What career success lessons have you learned from the children in your life? I'd love to hear your thoughts below, on our Facebook page, or via Twitter.
For more information on SPARK, the event that will ignite your passion at work in meaningful and impactful ways, click here.

Dr. Christi Hegstad helps you successfully do what you love! As President of MAP Professional Development Inc., she coaches professionals to get unstuck and reach Bold Goals with clarity, confidence, and meaningful action. Learn more at www.meaning-and-purpose.com and follow Dr. Christi on Facebook and Twitter.
---