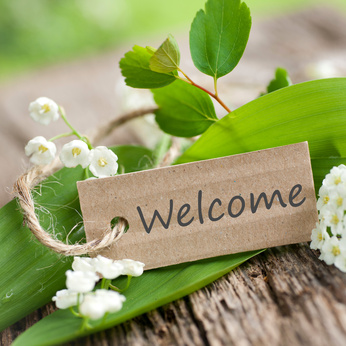 If you're like many of my clients, networking does not come naturally. (I've written before about my own networking gaffes, too.) If you're an introvert, new to your profession, or feel you have a knack for sticking your foot in your mouth, putting yourself into a roomful of people you don't know can prove quite challenging.
As one client recently admitted, "It's all so forced: I have to force myself to go, to stay a designated amount of time, and to not hide out in the restroom." She's definitely not alone!
Why is that?
Networking, or even just attending an unfamiliar gathering, can bring a whole new level of stress and awkwardness – especially when compared to a family get-together where everyone can let down their guard and just be themselves.
And events can feel especially difficult when it seems like everyone else already knows each other, or like everyone else is more experienced or "higher up on the ladder" than you.
The following 3 keys have made a big difference for many of my clients:
1. Shift your mindset. I'm not sure where I first heard the phrase, but it really stuck: Assume You Belong. Change your experience by changing your mindset around it. Instead of worrying if anyone you know will be there, for example, think of yourself as a welcome, wanted guest who truly belongs and can contribute generously.
2. Focus on building relationships. In my opinion, even if you are an entrepreneur, the goal of a networking event isn't necessarily to leave with new business. That perspective adds to the "forced" quality that so many people dislike. Instead, focus on getting to know people, offering suggestions, serving as a resource, and developing the relationship. You'll feel more authentic, which will naturally lead to new business.
3. Act as the host/hostess. Instead of feeling like an outsider, take on the informal role of host: help others feel comfortable, guide them to the refreshments while striking up a conversation, connect people standing alone with one another. This gives you a fulfilling role, helps the actual event host, and supports you in achieving #2 above!
Above all, foster an attitude of inclusion. If you notice someone looking alone, bring them into a conversation. If you've discovered your colleague always has an excuse for not attending events, make a point to invite him to join you next time.
I always think of Two Men & A Truck's "Grandma Rule": Treat others how you would like your Grandma to be treated. By being of service, you'll find yourself looking forward to networking events and yielding purposeful results to boot!
Ready to build relationships with heart-centered professional women who 'get' you? Join us for Spark – details here!
Dr. Christi Hegstad helps you successfully do what you love! As President of MAP Professional Development Inc., she coaches professionals to get unstuck and reach Bold Goals with clarity, confidence, and meaningful action. Learn more at www.meaning-and-purpose.com and follow Dr. Christi on Facebook and Twitter.
---